NOW AVAILABLE!
The first and second volumes of Chrono Trigger Symphony are now available! You can download a copy from Loudr (DRM-Free with MP3, FLAC & Apple Lossless format) or from the iTunes store! Thanks for everyone's continual support of my music. I hope you enjoy the albums!

About the project
"CHRONO TRIGGER SYMPHONY focuses The Synthetic Orchestra's efforts on recreating and remastering the soundtrack to Square Enix's classic video game from the Chrono series. Spanning several volumes, the project re-orchestrates all your favourite music from the game while remaining faithful to the originals. As each volume is released, every piece of music from the game will be featured, re-orchestrated by hand - one note at a time.

Thanks to everyone that has supported my music. I hope you enjoy the Chrono Trigger Symphony albums."
Blake Robinson, Synthetic Orchestrator.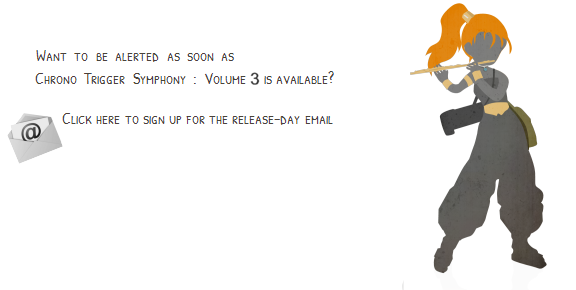 WHAT people are saying
"Chrono Trigger Symphony: Volume 1 is a superb retelling of the first part of the classic Chrono Trigger RPG, inviting memories of the past; new extensions to classic jingles and layering well-loved compositions with a renewed feeling of elegance. The first volume certainly sets the bar high for the remainder of the collection. 9/10"
"Finally an orchestral Chrono Trigger album worthy of the classic original soundtrack. You could claim Mitsuda himself arranged these additions and I really think most fans wouldn't think twice about it. 4/5"
"High-quality, true to the original, and fantastic attention to detail make this a must have album for any Chrono Trigger fan. If you have never played the game or listened to the music, let Robinson's work inspire you to take a trip through time and save the world."
Doug Matlock
"The arrangements are top notch. Unlike other tribute albums for Chrono TRigger, everything here is instantly recognizable, but with a great new level of depth. Frog's Theme and The Trial particularly stand out, but all the tracks are great. Already eagerly awaiting the next installment!"
DigFresh
Where can i get it and how much is it?
Because of the sheer amount of content in the soundtrack, Chrono Trigger Symphony will be split into several volumes. The first volume will be released on the 22nd of August, 2013. It will be available through Loudr and iTunes. You can sign up to be notified via email when it's released using the menu at the top of the page.
Why isn't it free?
Distributing a remix, cover or orchestration without a license is illegal, even if no profit is made. Generally, game developers are relaxed about this but with a project of this scale i felt it best to license everything to ensure that the album is completely legal and that the original composer approves and is compensated.

Projects such as this require hundreds of hours, mountains of effort and pockets full of money to produce, especially when it's the work of a single person. As with Super Metroid and Banjo-Kazooie Symphonies, by supporting this album you're directly helping to ensure that i can bring you more video-game-orchestra albums in the future.

Haven't you already orchestrated Chrono Trigger?
I've previously orchestrated a few pieces of music from Chrono Trigger. I wanted Chrono Trigger Symphony to be as complete as possible, and so have included them in this collection of albums. The original are still available to freely download.
How did you license it?
I'm part of the Joypad Records music label, run by a bunch of talented guys dedicated to licensing and distributing video game covers. They handle all the licensing and royalty reporting required to legally distribute derivitive musical works. When purchasing a copy of the album you can be sure that you're not only supporting myself, but also the original composer.
Are there plans for a physical CD?
Unfortunately not - the cost associated with such an endevour just isn't feasible and it was felt that the money was better spent on creating the music itself.
How did you make it?
CHRONO TRIGGER SYMPHONY was created using a large array of software and sample libraries i've both collected and created over the past few years.

FL STUDIO was used exclusively as the Digital Audio Workstation with each note being programmed in manually by hand for maximum realism.

A variety of sounds from companies such as Spitfire Audio, Sample Modeling, Cinesamples and Project Sam were utilised and a large selection of custom instruments were also developed exclusively for use on the project.
UPDATES
24th September 2013 - VOLUME 2 IS NOW AVAILABLE! You can now find the album on Loudr and iTunes. I hope you enjoy listening!.
22nd August 2013 - THE ALBUM IS NOW AVAILABLE! Happy Birthday, Chrono Trigger! You can now find the album on Loudr and iTunes. I hope you enjoy listening!.
16th August 2013 - WIN A FREE COPY of Chrono Trigger symphony and listen to it a day earlier than everyone else! Check out the contest page to find out how to enter!.